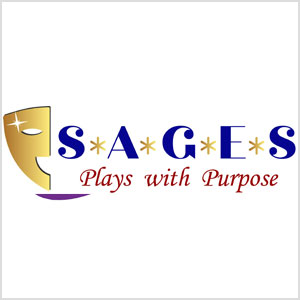 SAGES Theater Inc. offers unique and original "Plays with Purpose" to encourage, educate, and empower older adults on life-changing issues. We mix comedy and drama with senior actors on stage to create discussion, inspire advocacy, and celebrate positive aging.
Location: Clearwater, FL  33760
Contact: Christine Hamacher, Executive Director
Phone: 727-692-0902
Email: playswithpurpose@sagestheater.org
Website: https://sagestheater.org/
SAGES (Senior Actors Guild & Education Services) began in 2016 with a collection of stories, written by then 70-year-old Linda Goldman, based on her years of volunteer work with her peers and the inspiring tales she heard of overcoming challenges and embracing change with age. Her goals were to:
• Present a positive image of aging
• Feature senior actors as the messengers
• Stimulate discussion on issues of older Americans
• Provide free admission and helpful resources
SAGES' reputation as an innovative and successful nonprofit organization has grown under the guidance of Executive Director Christine Hamacher, a gifted, professional senior advocate. Her vision led to a first-of-its-kind program on fall prevention, the major cause of injuries and death for seniors. Woven into the story of Denying Gravity was the truth that most falls are preventable and that falls have a domino effect of stress for the injured and the family. Christine devotes her efforts full-time to collaborating with community leaders to create opportunities for our life-saving programs to reach the public and change lives. Denying Gravity is an award-winning event that contributes to the reduction of falls as verified by Regional Pinellas 911 and has been recognized through both the Florida and National Councils on Aging for its contributions.
The new purposeful play for 2020, Phoney Baloney, will raise awareness on effective strategies for independent, older adults to protect themselves from the growing risk of scams threatening their personal and financial security. Sharing stories by their peers allows older Americans to see through shams and protect themselves. SAGES is supported entirely by volunteer efforts and the generosity of donors.