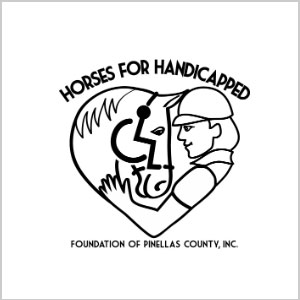 Horseback riding is widely recognized as one of the most beneficial forms of recreational therapy disabled persons can receive. It develops self awareness, builds self-confidence, improves concentration and discipline. Horseback riding also improves posture, balance, and coordination as well as increasing joint mobility and core stabilization.
The child's spirits soar as he/she react to the new sensation of being on a height above others. They become aware that, for the first time, they can be mobile and independent of others and mechanical aids. The horse is their "equalizer" and they are performing just as others do.
The Horses for Handicapped was founded by the late Gene Harris in ~1981 as a Kiwanis project when he approached Girl Scout/4-H leader Mary Urquhart with his idea. To this day, we operate strictly on volunteer staff made up of community members from various organizations including Kiwanis, Girl Scouts, 4-H as well as many others, and we depend on donations from the community. We serve over 75 riders and horse lovers each week.
We are located in west central Pinellas County in the city of Seminole, FL.
Seminole, FL 33778
Leah Frohnerath
727-744-9776
leah.frohnerath@gmail.com
As riding director Mary Urquhart states, we are "Happy for Horses" and we utilize our equine partners to help the special needs citizens in our community as well as develop empathy and leadership skills in our youth through the volunteer aspect of the program. We create: ~ Self awareness ~ Self confidence ~ Self discipline.
This program is 100% volunteer run and 100% dependent on donations from the community. Our community includes:
Our Riders and Families
Community Sponsored by Community Civic Clubs, including but not limited to: the Kiwanis Club of Seminole, Eagle Riders, and Rotary Club of Lake Seminole,
Our Volunteers
The Seminole Riders Girl Scouts of America/4-H Club
Area High School National Honor Societies
CAS Programs
Professionals
Bright Future Scholars
Special Olympics
and you! ….